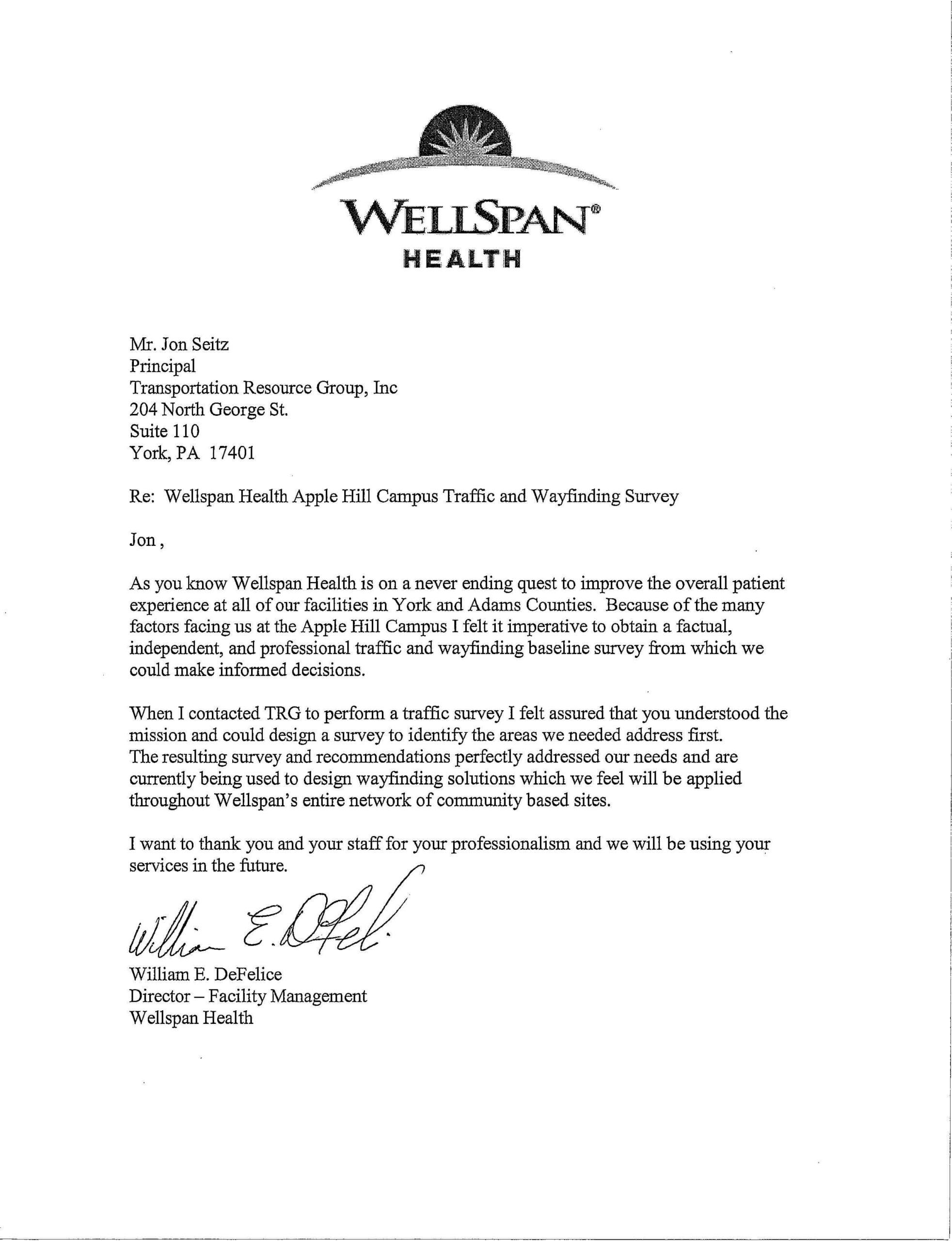 Jon,
As you know Wellspan Health is on a never ending quest to improve the overall patient experience at all of our facilities in York and Adams Counties. Because of the many factors facing us at the Apple Hill Campus I felt it imperative to obtain a factual, independent, and professional traffic and wayfinding baseline survey from which we could make informed decisions.
When I contacted TRG to perform a traffic survey I felt assured that you understood the mission and could design a survey to identify the areas we needed to address first. The resulting survey and recommendations perfectly addressed our needs and are currently being used to design wayfinding solutions which we feel will be applied throughout Welspan's entire network of community based sites.
I want to thank you and your staff for your professionalism and we will be using your services in the future.
William E. DeFelice
Director – Facility Management
Wellspan Health
Transportation Resource group does what they say they do. They are very experienced and professional and were especially helpful in working with government transportation officials to procure the proper permits to allow our project to progress smoothly.
P. Doug Crim
Sr. Director, Property Development & Leasing DHL
1. What project did you hire TRG for?
We have had the opportunity to work with TRG on several projects including most recently on a 1.1 million SF distribution project at 801 Centerville Road in Penn Township. The design and permitting of the sites access to a PennDOT highway was a critically important component to the project's success. TRG's experience and expertise was invaluable to achieve our goals.
2. What do you like most about working with TRG?
TRG operated as the traffic consultant for both the primary access to the project and the supporting utility work. The project provided unique challenges related to its close proximity to an interchange on I-81. Their experience with PennDOT requirements was extremely important. There were significant challenges related to trip generation, existing grades, utility lines, restricted geometry with interstate ramps and stormwater.
In addition to the design complexities, the deal structure demanded a highly accelerated design and permitting schedule. TRG met the schedule by utilizing their depth and experience. TRG created a team environment between developer, PennDot, and the Township.
3. Would you hire TRG again? Why/Why Not?
We will absolutely hire TRG again. TRG is experienced, professional and has met the schedule commitments for all of our projects.
4. Would you recommend TRG? Why/Why Not?
We would recommend them to anyone with Traffic Engineering needs. Our projects have been staffed with experienced team members who were technically skilled and diligent in the reporting.
– Verus Partners